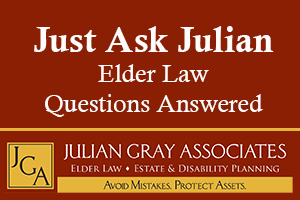 Ask The Attorney with Julian Gray and Associates: Elder Law Questions Answered
Julian Gray and his team have worked in the field of elder law for more than two decades. Learn valuable answers to your important questions.
"You Need the Right Quarterback for your IRA Game Plan"
Thursday, November 17 – 1 p.m.
"What Every Caregiver Should Know About Elder Law"
Thursday, December 15 – 1 p.m.
"Using Trusts to Protect Your Estate for Future Generations"
Thursday, January 19 – 1 p.m.
"The Importance of Early Estate Planning when Diagnosed with Degenerative Diseases"
Thursday, February 16 – 1 p.m.
"Will Medicare Pay for my Nursing Home Stay?"
Thursday, March 16 – 1 p.m.
"Developing an Estate Plan to Protect Your Loved One with Special Needs"
Thursday, April 20 – 1 p.m.
"Dealing with the Family Vacation Home: It's Not Always a Day at the Beach!"
Thursday, May 18 – 1 p.m.